About Us
Vision:  To help support, inspire and educate people about horses, animals and nature through the development of sustainable nature-inspired products.  To have fun, doing good, working collaboratively to bring together a collective consciousness toward living respectfully with nature.
Mystic Horse products have been helping horses and people since 1999. Mystic Horse evolved from the energies of several marvelous horse loving women who wanted to support the products developed by Mary Ann Simonds. Although the core group of women has changed through the years, their combined energies, love and support has helped to grow Mystic Horse.
Mary Ann Simonds –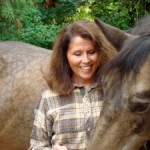 Acting "lead mare" is still researching and developing stress management and habitat enhancement products for horses, animals and people.  She splits time between her farm and horses in Vancouver, WA and home in Wellington, FL.  She is supported by an awesome fulfillment house with Tom Wade ( Visual Tronics).
We welcome collaboration and if you have products or services that share our vision/values let us know.